Tourist in Esbjerg
Are you visiting Esbjerg as a leader, a parent, relative or traveling companion? Lots of experiences are waiting for you. Make your reservations with us and enjoy your visits and tours around Esbjerg area. So much offer that you will need our help to choose what is the best option for you. Please make your reservation in advance before you arrive to Esbjerg or you might lose the chance to visit some of your choices due to the large number of teams that make reservations for this services through us.
Legoland Billund Resort
A fascinating 4D film awaits you in LEGO Studios where you can feel the real sensations of a snowstorm as you watch it through 3D glasses. Try X-treme Racers - A roller coaster that goes really fast through the sharp curves. Also look forward to the "Ice Pilots School " robot. You program exactly the ride you want, and "Ice Pilots School " takes you along. You are the builder, and you decide if you want your ride to be funny, wild or wildest! This is one cool experience – if you dare!
Swim Center Denmark
Tropical water world with a water chute, a wawe pool, a pool for children and babies, a canal with countercurrent, rubber beach toys etc.
50 m. competition pool with springboards at the height of 1 m. and 3 m. and a platform at the height of 5 m.
Fun World - play in Esbjerg
Bowling
Go-kart
Restaurant
Minigolf - 12 holes
Golf simulator
Race room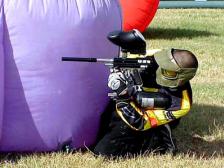 Paintball near Esbjerg - T.O.P. Game
Outdoor forest field with fine changing facilities.
Also rappeling.
Cafe
The Fisheries and Maritime Museum
You can go exploring in the Fisheries and Maritime Museum all summer. You will enjoy watching the seals in the sealarium and the attractive fish and attention-grabbing animals in the aquaria, or learn more about man and the sea in the displays on fisheries, navigation, and nature below the sea surface.
Man meets the sea
Visitors arriving in Esbjerg from the sea are greeted by Svend Wiig Hansen's monumental sculpture "Man meets the Sea", which was raised on the occasion of Esbjerg celebrating its 100th anniversary as an independent municipality in 1994.